Revamped design and enhanced navigation reflects the company's commitment to innovation.
CAMBRIDGE, Ontario October 27, 2017 – Shimco, an award-winning, world-wide leader in the manufacture of precision parts and gap-management solutions has published its newly designed corporate website. With a fresh new look, the new site features a platform with improved navigation and increased product and corporate information that reflects Shimco's ongoing commitment to innovation.
"Shimco continues to evolve from a traditional manufacturer to a technology-focused company with advanced manufacturing capabilities," said Peter Voss, President and CEO of Shimco. "Our focus is on innovation, in both the products we make and in how they are made. Our new website is another element of that process."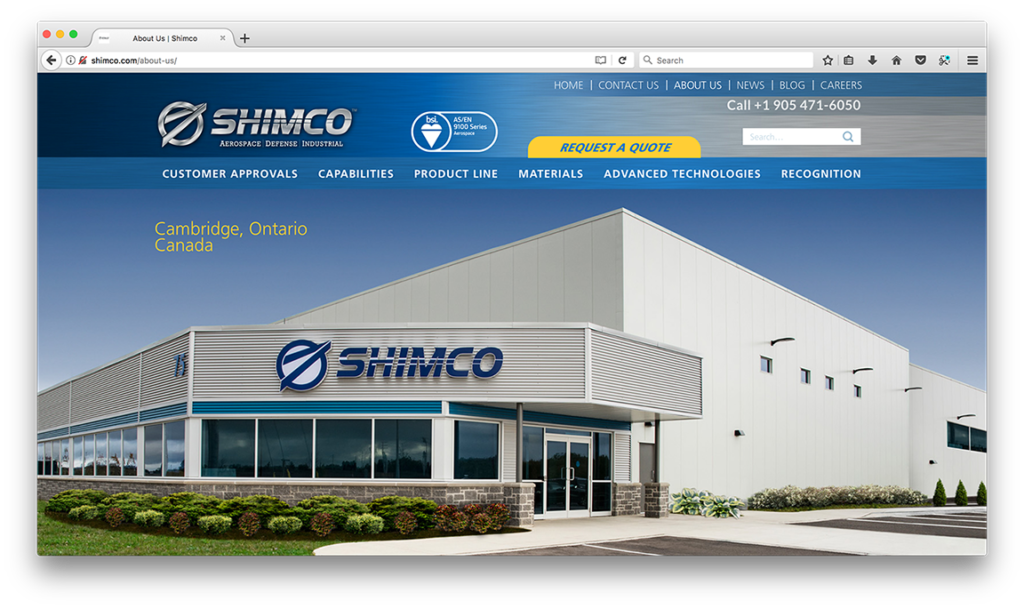 With the improved navigation tool, visitors to Shimco's new website can quickly find the product or service they need and learn more about the company's capabilities, advanced technologies, community support and recognition in the industry. A customer portal will soon be added, allowing customers to check on the status of their orders and receive automatic updates at regular intervals.
Shimco's new website is available at www.shimco-nd.dev.seoprrank.com.
About Shimco
For over 30 years, Shimco has served the aerospace, defense, space, industrial and other sectors worldwide. Shimco is an award-winning, world-wide leader in the manufacture of precision parts and gap-management solutions (such as laminated and edge-bonded shims, tapers and spacers), in materials ranging from aluminum and titanium through to synthetics and composites and in PEO coated shims.
Shimco offers a tradition of innovation, precision and execution, providing solutions that conform to exacting international and customer-specific standards. Shimco is registered with the Canadian Controlled Goods Program and is an ISO9001:2008 & AS9100C registered company. Our commitment to quality, on-time delivery, lean manufacturing, our employees, customer support, the environment and financial strength is unparalleled. Canadian Headquarters are in a new state-of-the-art manufacturing facility in Cambridge, Ontario.
We are dedicated to being a preferred strategic partner to global aerospace, space and defence OEMs and Tier 1 system integrators, suppliers and MRO organizations, providing value and service on everything that flies.
Visit: www.shimco-nd.dev.seoprrank.com
Shimco. Experience The Perfect Fit.