Posted on January 2, 2017 by Lisa Gordon
Shimco has always specialized in filling gaps. The Cambridge, Ont.-based precision parts manufacturer is known worldwide for building custom shims–small parts used by aerospace original equipment manufacturers (OEMs) to fill the gaps that naturally occur between various aircraft components.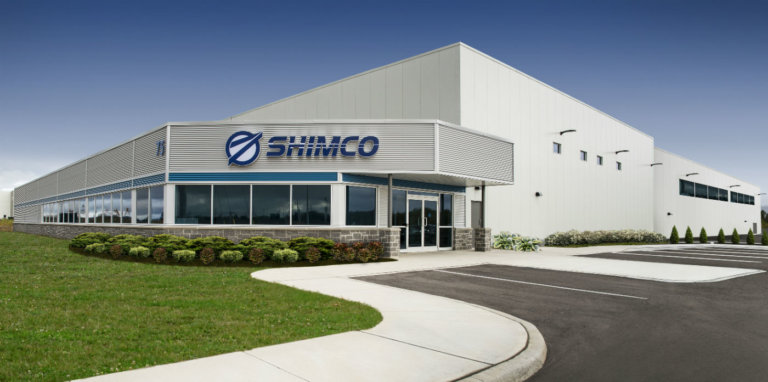 This artist's rendering shows the planned addition (back right) to Shimco's facility in Cambridge, Ont. Among other activities, the expansion will house a Centre of Excellence new technology incubator.
Shimco Image
Since 2011 when president Peter Voss took over Shimco, the company has grown its aerospace business by 250 per cent and relocated its manufacturing facility from Markham, Ont., to a new 25,000-square-foot building in Cambridge. Now that the move is complete, Voss is planning the next big thing. And this time, it's going to benefit the entire Kitchener-Waterloo-Cambridge technology triangle.
By the fall of 2017, he hopes to break ground on his latest venture, a 30,000-square-foot expansion that will be equally divided between supporting vertical integration of traditional manufacturing processes and a new Centre of Excellence. The latter will be a technology incubator focused on developing and testing the latest advanced manufacturing technologies.
The new two-storey building will be attached to Shimco's current facility on Heroux Devtek Drive in north Cambridge. The first floor will contain manufacturing processes and facilities while the second floor will support collaborative research, testing and demonstration projects.
Voss said the Centre and its facilities will be open to academia and research. He has reached out to the University of Waterloo, McMaster University, Ryerson University and the University of Toronto, as well as to companies such as electronics manufacturer Siemens, aerospace, defence and space OEMs, and Tier 1 customer firms and suppliers.
"They're all interested in the technology part of what we're doing," Voss told Skies. "There's Conestoga College, too; its students could train locally in real-world applications."
Voss has already submitted a business plan to various organizations for support and funding, including the provincial and federal governments.
He is being assisted by Marlene Conway-Diels, Ontario regional director for the Consortium for Aerospace Research and Innovation in Canada (CARIC). She is also a project manager with the Ontario Aerospace Council.
"It has been a two-year strategic conscious plan that started with the move to the new facility in Cambridge," explained Conway-Diels. "The thought all along was that Shimco would get the new facility running really well and then do a further expansion of up to 30,000 square feet.
"Under the CARIC banner, I've been working with Peter to establish collaborative innovation groups and develop CARIC project expressions of interest and applications for funding."
Voss plans to concentrate on new technology that has a demonstrated market need. Following the big data trend, he said one area of focus will be on embedding technology into products for commercial applications.
Because Shimco is already equipped to make shims made of several laminated layers, the company could easily embed technology within those layers to enable connectivity. This has big implications in parts and engine monitoring, for instance, where real-time data can improve safety, extend MRO cycles, and boost airline profitability.
"It can go to almost any application because it becomes part of the construction instead of sticking the tech onto something else. It's less prone to failure," said Voss.
He is excited about getting in on the ground floor of this new technology.
"It's about how to integrate it into future platforms," he explained. "For us to be at the forefront of that and have the OEMs and Tier 1s look to us as a partner to do the testing and the validation; it helps them develop at a basic level. We can tie into the local universities who themselves are tied to government funding and support services. It's a cost effective way at getting at very world class research."
A second area of focus will be the exploration of Keronite, an environmentally-friendly surface treatment technology that is applied to aluminum, magnesium or titanium to form a protective barrier that is tougher than traditional anodizing. Shimco holds the worldwide rights to the process as it applies to aerospace gap management.
The Centre of Excellence and vertical integration plan are expected to create positions for 45 highly-qualified staff members over the long-term.
Conway-Diels said a number of companies are recognizing that innovation is the only way to ensure long-term success and create differentiators for global competitiveness.
"It's wonderful to have some of these SMEs [small- to medium-sized enterprises] stand up and move forward," she told Skies. "I'm a huge SME booster and what interests me about Shimco is how they embrace innovation."
Voss enjoys the prospect of being the "matchmaker" between Region of Waterloo companies and OEMs worldwide–and not just in aerospace, either.
"When you have something new, you have to demonstrate it and validate it," said Conway-Diels. "Aerospace, defence and space is where Shimco is now, but there is a real opportunity to move into automotive, defence naval and ground vehicles and even the UAS [unmanned aerial systems] markets."
Voss looks forward to the challenge of establishing relationships and cementing business connections as the Centre of Excellence becomes a reality.
"The collaboration with the local world-class facilities we have in the region will allow us to take the tech and commercialize it for ourselves and others locally," he concluded. "This will be an incubator for much larger opportunities."