It's hard to browse the news headlines lately without some mention of upcoming missions to space. In particular, the Mars One Mission has been getting a lot of press attention. The idea is to establish a permanent human settlement on Mars. Beginning in 2026, crews of four are expected to depart every two years to Mars, following the first unmanned mission to the planet, which is to be launched in 2020. In the years to come, a demonstration mission, communication satellites, two rovers and several cargo missions are to be sent to Mars, which will aid in building a sustainable living environment for the astronauts who will eventually settle there. The mission represents a massive leap forward in our understanding of space, though there is still much to learn and accomplish before such an operation can safely take place.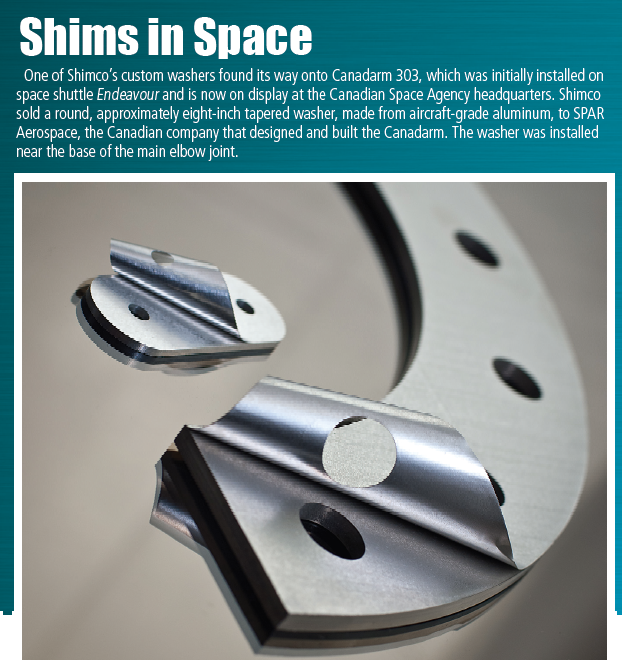 Shimco Supplied Parts for the Canadarm 303 Robotic Arm
Fortunately, many organizations are continuing to make strides in the study of astronautics. NASA is perhaps the most well-known, and for good reason. For decades, NASA has been at the forefront of space exploration and discovery. Shimco has supplied various products to NASA over the years, including custom washers that were used in the Canadarm 303 robotic arm, which traveled aboard the space shuttle Endeavour. Currently, it is on display at the Canadian Space Agency headquarters.
More recently, Shimco has been in talks with SpaceX to supply parts for their projects. SpaceX is another major contender in the aerospace sector. As the world's fastest-growing provider of launching services, this company is certainly one to watch. Currently, the Dragon Spacecraft from SpaceX is providing regular cargo resupply services for NASA missions.
We look forward to seeing where each of these organizations will take us over the next few years and decades, and are proud to assist them in reaching their goals by providing them with precision manufactured parts. For a full review of our services and capabilities, please reach out to Shimco online or by calling +1 (905) 471-6050.